Lionsgate just released the second Power Rangers movie trailer. Check it out below:
No Pink Spandex – Episode 227: It's Not Happening (2:08:00, 88 MB)
Audio clip: Adobe Flash Player (version 9 or above) is required to play this audio clip. Download the latest version here. You also need to have JavaScript enabled in your browser.
Show Notes
Hosted by: Lisa J, Jer, Tristan, and Shamus
Topics: We talk about Bandai America and the Power Rangers movie toys, Lionsgate at CES 2017, and the newest info on Kyuranger. We also discuss Power Rangers Ninja Steel news including a sneak peek at the premiere!
Thanks to The Power Scoop for finding the following interview that new Red Ranger William Shewfelt did with The Modesto Bee. Here's an excerpt:
On Jan. 15, he returns to New Zealand to shoot the second half of the Ninja Steel story arc through May. That will be the show's 25th anniversary, airing in 2018 with guest appearances of the most popular past Rangers, Shewfelt said.
In terms of non-ranger alumni, we've already seen Kelson Henderson who has played various roles on Power Rangers including Boom from Power Rangers SPD, but footage from the sentai counterpart Ninninger does lend itself for past rangers to appear: Yellow Ranger from Magiranger, Red Ranger from Kakuranger, and both Red and Green Rangers from Hurricaneger. (Power Rangers Mystic Force, Mighty Morphin' Alien Rangers, and Power Rangers Ninja Storm respectively.)
But are these the "most popular" rangers or are we in store for more surprises? Power Rangers Ninja Steel premieres Saturday, January 21, 2017 on Nickelodeon.
William Shewfelt (Brody, Red Ranger) recently visited his old junior high school to speak with the students. In the midst of a Q&A, he demonstrated the morphing sequence for Power Rangers Ninja Steel. Watch the video below (around the 00:49 mark):
Spoiler alert: Yet again, it's "It's Morphin' Time!". I can't….
Power Rangers Ninja Steel will be premiering on Saturday, January 21st on Nickelodeon, but here's a preview from Nick.com of "Return of the Prism" featuring William Shewfelt (Brody, Red Ranger) and another familiar face to the PR family…
Brandon Jay McLaren (Jack from Power Rangers SPD) co-stars in the new television series Ransom on CBS. He plays Oliver Yates, a psychological profiler on a team of private hostage negotiators.
Ransom's regular time slot premiere is this Saturday, January 7th at 8pm ET/7pm CT.
No Pink Spandex – Episode 226: Interview with Gregory Mitchell, Former Sr. Director of Marketing for Bandai America (1:26:49, 60 MB)
Audio clip: Adobe Flash Player (version 9 or above) is required to play this audio clip. Download the latest version here. You also need to have JavaScript enabled in your browser.
Show Notes
Hosted by: Lisa J, Jer, Tristan, and Shamus
Topics: We talk with Gregory Mitchell, former Senior Director of Marketing & Brand Management for Bandai America, all about the toy industry and the decision-making process from specs to shelves.
IGN has announced that 2017's Power Rangers feature film will be accompanied by a graphic novel release with a brand new story, entitled Power Rangers: Aftershock.
From the publisher of the critically acclaimed Mighty Morphin Power Rangers comic series comes an original story set in the universe of the upcoming Power Rangers feature film.  This explosive, all-new tale picks up immediately after the events of Lionsgate's highly anticipated movie, in theaters March 24, 2017.  See the film, then deep dive into the continued adventures of Jason, Kimberly, Trini, Zack, and Billy!




Written by Ryan Parrott (Star Trek: Starfleet Academy, Batman: Gates of Gotham) and illustrated by artist Lucas Werneck.  Features an exclusive Previews cover edition by Greg Smallwood (Moon Knight) available only through your local comic book shop!
For $14.99, with a length of 96 pages, Power Rangers: Aftershock will be on sale March 29, 2017.


(Courtesy: PrometheusUFO and Morgan Lamia from Rangerboard)
Microsoft has launched a pre-order page for Mighty Morphin Power Rangers: Mega Battle on Xbox One.  It will be available on January 16, 2017 at a price of $14.99.
They've also announced a bundle entitled the "Morphenomal Pack", allowing you to play as six bonus characters: Rocky, Aisha, Adam, Katherine, Tommy (alternate version) and Billy (alternate version).  That will be available on March 16, 2017.
(Courtesy: NightMere10 from Rangerboard)
No Pink Spandex – Episode 225: Couldabeenablackguy (2:18:30, 96 MB)
Audio clip: Adobe Flash Player (version 9 or above) is required to play this audio clip. Download the latest version here. You also need to have JavaScript enabled in your browser.
Show Notes
Hosted by: Lisa J, Jer, Tristan, and Shamus
Topics: We discuss the Power Rangers movie trailer in theaters, Power Rangers movie toys and the Legacy line, the Power Rangers Ninja Steel trailer, Power Rangers Dino Super Charge Episode 22 "Here Comes Heximas!", and much more!
Nick and More on Twitter has reported that Power Rangers Ninja Steel will be premiering on Saturday, January 21, 2017 on Nickelodeon. Here are the the first two episode summaries:
#701 – Return of the Prism – January 21
A young teen named Brody escapes to Earth from an alien spaceship with a special artifact called the Ninja Nexus Prism. He and two new friends must unlock its secrets to defend it from the villainous champion Galvanax.
#702 – Forged in Steel – January 28
As Brody, Preston and Sarah return to Brody's childhood home in an attempt to fin his lost family, Hayley and Calvin come across a strange alien named Mick.
Patricia Ja Lee (Cassie from Power Rangers in Space) can be seen in a new commercial for the annual Toyotathon campaign, promoting the 2017 Toyota RAV4.

She plays a woman going with her husband on a road trip in their new car to visit his brother-in-law, presenting him with snowballs from home that they fight with.
Here is Bandai's new TV commercial featuring the Power Rangers Interactive Movie Megazord and a shiny new Goldar.

You can purchase the Megazord online at Toys 'R' Us in the United States.
Christina Masterson (Emma from Power Rangers Megaforce) can be seen in a new commercial for V8 vegetable juice.

She plays one of two obnoxious women participating in a "nutrition competition", comparing the best way to get needed vegetables into your system. She orders a special blend from a fancy juice bar while her opponent simply downs a glass of V8 and wins.
Erin Cahill (Jen from Power Rangers Time Force) is the star of a new made-for-television movie entitled Sleigh Bells Ring. A young woman needs the perfect sleigh, but when she comes into the possession of a serious fixer-upper, only her ex-boyfriend can help her make it look like new.
Also starring David Alpay, Sleigh Bells Ring premieres Sunday, December 18, 2017 only on Hallmark Channel.


(Courtesy: kalenabear from Rangerboard)
Variety has heard from sources that The CW has canceled their period drama Reign starring Adelaide Kane (Tenaya 7 from Power Rangers RPM).  With the fourth season currently under production, it will be the show's last.
The final season of Reign premieres Friday, February 10, 2017 on The CW.


(Courtesy: Zhane from Rangerboard)
Nakia Burrise (Tanya from Power Rangers Zeo) appears in a new spot for Walgreens stores.

She plays one of a pair of office workers who exchange Christmas presents, and both are pleasantly surprised to learn they received things they actually wanted. She even does a little dance at the end.


(Courtesy: Storm Eagle and GoldAnyRanger from Rangerboard)
No Pink Spandex – Episode 224: Mesa Alpha 5 (1:36:53, 67 MB)
Audio clip: Adobe Flash Player (version 9 or above) is required to play this audio clip. Download the latest version here. You also need to have JavaScript enabled in your browser.
Show Notes
Hosted by: Lisa J, Jer, Tristan, and Shamus
Topics: We discuss the Power Rangers movie and Ninja Steel toys, new Power Rangers Alpha 5 art, Uchu Sentai Kyuranger, and the MMPR #9 comic.
Den of Geek brings us the exclusive to the new trailer for Power Rangers Ninja Steel. At first glance, I'm already noticing that Preston (Blue Ranger) is decked out like he's from the 18th century…or just a fancy butler for today's day and age! Check out the trailer below: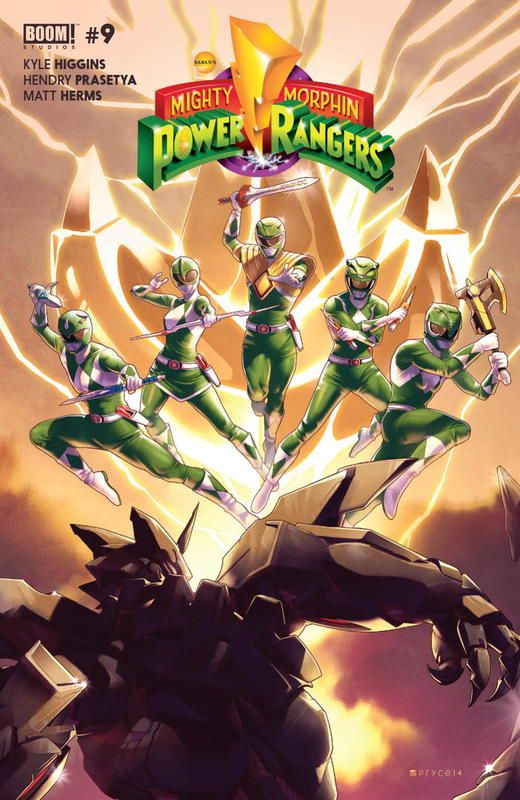 Editor's Note: If you haven't read the comic and like the element of surprise, STOP. Do not read any further! Spoilers are ahead!
The art of executing a twist that is both believable and unexpected is quite difficult. That statement is even truer when said twist is occurring within the confines of a well-established franchise. In the Power Rangers universe, for every Mack is a robot there are a dozen Astronema is Andros' sister. The twist in Mighty Morphin' Power Rangers #9 lies firmly within the former category as it turns a nearly year long storyline on its ear and proves that the action is only just getting started.
Let's start at the beginning as Hendry Prasetya's art is allowed to shine in another issue chock full of well-paced action that never feels too cluttered. One of the most amazing aspects of Kyle Higgins' writing is that he never lets an action scene have the by the numbers feel that plagued the television series. He opts for showing the zords' individual power as opposed to making the Megazord transformation sequence a foregone conclusion.
Freshly off of siphoning Tommy's Green Ranger powers in order for Jason, Kimberly, Trini, and Zack to tap back into the Morphin' Grid, the rangers systematically regain control of their zords and confront Black Dragon in Paris. The mecha battle that follows is a stalling tactic by the rangers. Even with a demorphed Tommy controlling the Dragonzord, the lack of the Triceratops puts the team at a severe disadvantage.
This is where long term characterization pays off. While I was somewhat critical of the lack of time dedicated to Billy being stuck in the Dark Dimension with Goldar, the payoff in this issue was fairly satisfying. On the surface, Goldar is a loyal minion who sees situations in black and white. Billy has systematically chipped away at that mindset by asking logical questions one would expect from a man of science. After witnessing the battle between Black Dragon and the rangers, Billy manages to exploit Goldar's jealousy towards anyone gaining favor with Rita over himself. The golden monkey's exile is self-imposed and soon he purposefully frees the Blue Ranger in hopes that he will in turn remove the obstacle in front of Goldar's right hand man status.