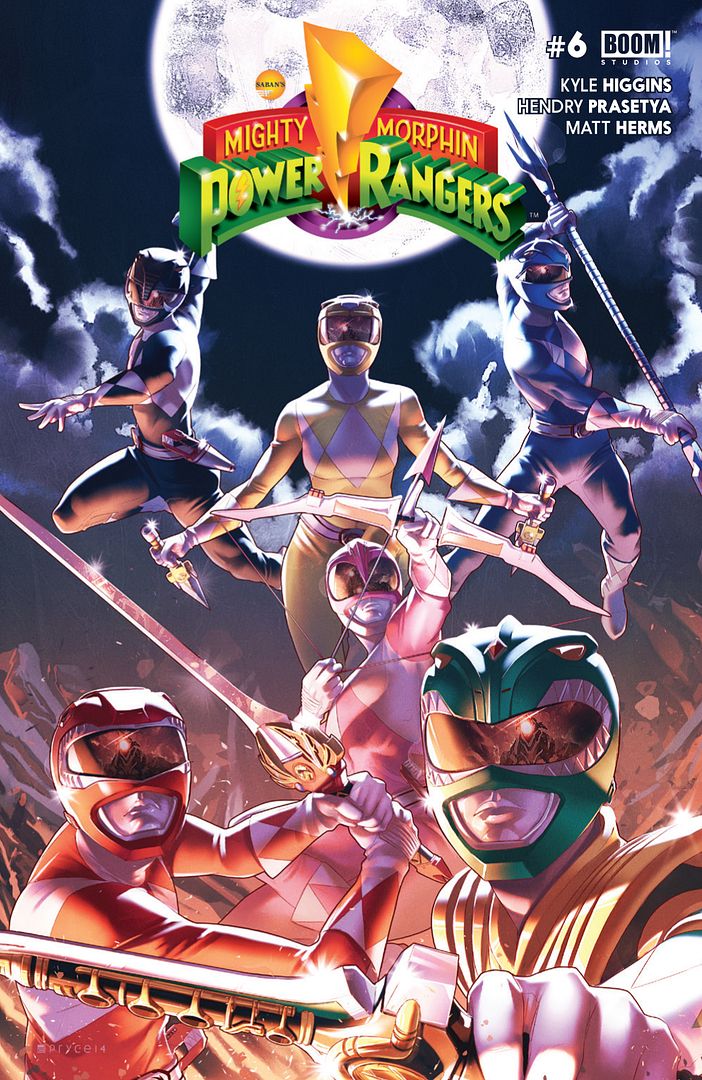 Editor's Note: If you haven't read the comic and like the element of surprise, STOP. Do not read any further! Spoilers are ahead!
Hogday Afternoon. Chase Into Space. The Fate of Lightspeed. These episodes can still cause goosebumps to pop up on even the chillest Power Rangers fan's arms. This is partially due to their nature as finales that have been built up to all season long. It's also true in part because the villains were able to do something that felt seemingly impossible: they destroyed the rangers' base. While such an activity has become almost second nature in more modern seasons, it still sent a special jolt of electricity into fans' bodies in those early years.
Even Changing of the Zords is one of the most iconic sagas in Power Rangers lore because it featured a desecration to the sanctity of our benevolent heroes. Lord Zedd – emperor of all that is evil – not only appeared in the hallowed grounds of the Command Center but he set up shop and dictated his own terms. Sure, the rangers eventually won the day as they always do but for a child of the '90s that event alone was unfathomable on Tuesday and a harsh reality on Wednesday.
No Pink Spandex – Episode 213: Just Don't Get Too Derpy (1:17:31, 54 MB)
Audio clip: Adobe Flash Player (version 9 or above) is required to play this audio clip. Download the latest version here. You also need to have JavaScript enabled in your browser.
Show Notes
Hosted by: Lisa J, Jer, Tristan, and Shamus
Topics: We review Power Rangers Dino Super Charge Episode 10 "Gone Fishin'" and the MMPR 2016 Annual from Boom! Comics. Also, does Amy Jo Johnson want to come back to Power Rangers? Listen to find out!
Bleeding Cool is reporting that Jason David Frank (Tommy from Mighty Morphin Power Rangers) is slated to appear in a new web series developed by Valiant Comics following one of their most popular characters, Ninjak.
Directed by Bat in the Sun and starring Michael Rowe in the title role, the 6-8 episode miniseries will feature Ninjak doing battle with many of the Valiant stable's other marquee players, including Bloodshot, X-O Manowar and Timewalker.  The character being played by Jason Frank is unknown at this time.
Filming has apparently already begun in Los Angeles, with an official announcement of this project expected at New York Comic Con in October.
(Courtesy: lablue6uy on Rangerboard)
Hot off the heels of the incredibly successful monthly Mighty Morphin' Power Rangers comic comes a selection of short stories meant to add a bit of backstory and flavor to Kyle Higgins' ever-expanding universe. Each tale has its own unique flavor in both tone and artistic style. Let's take a look at the six shorts that make up the Mighty Morphin' Power Rangers 2016 Annual:
A Week in the Life…
Lead writer from the mainline book Kyle Higgins teams with artist Rod Reis (C.O.W.L.) to bring to readers a story about Jason that is meant to truly define the qualities that he possesses to make him worthy of the red spandex. This story comes at the perfect time. The main book has focused heavily on Tommy and Zack. Billy and Trini have had great character moments. Even Kimberly is getting some much deserved spotlight in the Pink mini-series. Ironically enough, the leader of the team has spent the most time in the background.
This story shines a light on the human portion of the word superhuman. Jason's engine runs just a little bit faster and a little bit longer than the rest of his teammates but even he can stall on occasion. The quick scenes and scant dialogue drive home just how hard Jason runs on a weekly basis. Everything is done with extreme purpose. This is punctuated by Reis' artwork which is the most photo-realistic seen in Boom's Power Rangers line. Jason is Austin St. John. Make no mistake. As a character piece, this story succeeds and further cements Zordon's reasoning behind choosing Jason for such a key position.
Unlockly Heroes
Bulk and Skull take center stage in Ross Thibodeaux's (Ego Tripp) story of happenstance. The duo have long been beloved by fans for their progressive character evolution over the course of the series from simple bullies to truly good people who still make mistakes. This entry nails both the flow and dialogue of a typical Power Rangers episode so very right. As silly as the events are that unfold, (there's a sliding silly scale in the world of monsters and rainbow-colored superheroes) they feel very real to what could happen and deliver that sort of Lucy pulling the football away from Charlie Brown level of near satisfaction that was quite typical to the second season of MMPR.
Bulk and Skull are buffoons. Bulk and Skull are self-serving. Bulk and Skull are easily rattled. But Bulk and Skull will answer the call of duty even if every move is punctuated with histrionics. The tongue-in-cheek nature of the tale is accented by Eisner Award-winning artist Rob Guillory's (Chew) twitchy, elastic style that couldn't possibly be a better fit for the lovable pair.
No Pink Spandex – Episode 212: We Are Best Friend (2:15:26, 93 MB)
Audio clip: Adobe Flash Player (version 9 or above) is required to play this audio clip. Download the latest version here. You also need to have JavaScript enabled in your browser.
Show Notes
Hosted by: Lisa J, Jer, Tristan, and Shamus
Topics: We talk about the mid-season premiere of Power Rangers Dino Super Charge Episode 9 "Besties 4Eva!". We are also joined by Mike and Jarys of Ace of Geeks and discuss all the Power Morphicon news including the new Ninja Steel cast and much more!
Links
Ace of Geeks
Ace of Geeks Podcast
Gaming news website Gematsu has learned of the content evaluation and rating for a new release by Bandai Namco Entertainment entitled Saban's Mighty Morphin Power Rangers: Mega Battle for the Sony PlayStation 4 console.
This analysis was conducted solely for European consumers by PEGI (Pan European Game Information), a video game decency-rating board similar to that of the ESRB (Entertainment Software Ratings Board) in the United States.  The following is the final conclusion of PEGI's evaluation:
The content of this game is suitable for persons aged 12 years and over only.
It contains: Non-realistic looking violence towards human characters – Violence in a sporting context
As the game has not yet been announced officially, no release date is available at this time.
(Courtesy: FalconRanger11 from Rangerboard)
For the third straight installment, Power Morphicon – the biennial Power Rangers convention in Pasadena, California – has partnered with Bandai America to bring fans an exclusive figure. This time, it's a black and gold version of the Dino Megazord that can be created by combining individual pieces packaged with each member of the Mighty Morphin' team. Coming in at a price of $40, this limited to 500 figures item is a surefire rarity.
Speaking of the new legacy collection line of action figures, the first wave is currently hitting shelves across the country and it includes both the Red and Green Rangers from Mighty Morphin' and all three Wind Rangers from Ninja Storm. Priced at $19.99, these figures have only been seen in Target as of the writing of this article but they should soon be available at all major retailers.
To hear my thoughts on both the PMC exclusive Dino Megazord and the three Ninja Storm figures, please follow this link to my YouTube channel: Captain Subpar's Toy Reviews. While you're there, you can also check out my many other reviews for recent Power Rangers and Super Sentai releases. In addition to that, I'm also counting down all of the Power Rangers seasons in a series of videos and so much more.
Yoshi Sudarso (Koda from Power Rangers Dino Charge) appears in a new ad for the 2017 Toyota Camry.
He plays a guy walking out of the gym to his car wishing he were an action star.  Out of the blue, ninjas start attacking him and he drives aggressively to avoid them until the director yells "Cut!" and reveals it was all a film shoot.
No Pink Spandex – Episode 211: Agents of Power Rangers (2:18:39, 95 MB)
Audio clip: Adobe Flash Player (version 9 or above) is required to play this audio clip. Download the latest version here. You also need to have JavaScript enabled in your browser.
Show Notes
Hosted by: Lisa J, Jer, Tristan, Shamus, and Jason
Topics: We take a little trip back in time and bring you up to speed with our news discussion since May up until now including Power Rangers movie news and speculation, and Power Rangers Ninja Steel. We also discuss all the news that came out of San Diego Comic-Con 2016 and much more.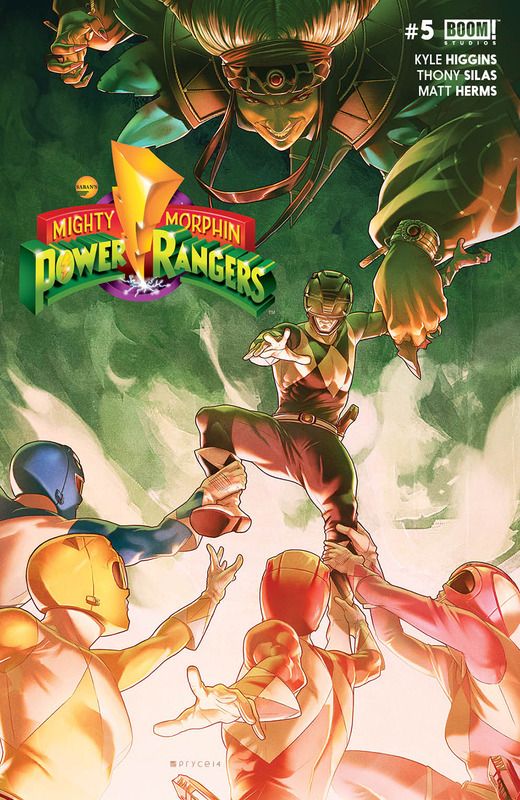 Editor's Note: If you haven't read the comic and like the element of surprise, STOP. Do not read any further! Spoilers are ahead!
Throughout the first four issues of Mighty Morphin' Power Rangers, writer Kyle Higgins has performed a master stroke in sowing the seeds for this one off flashback tale. While the main focus of the story has been Tommy dealing with the growing pains that come with joining a team of superheroes after being their most challenging supervillain, we've been getting tastes of the rangers' individual reservations towards their new teammate. No one has been more vocal about their distrust than Zack. It turns out that the Black Ranger faults the Green Ranger because he was almost the one donning the emerald spandex.
This issue's story takes place one month prior to Green with Evil. One of the more intriguing aspects of this series is that it slowly reminds the reader that the world is far bigger than Angel Grove, California. A simple task at first blush but for all of the television show's positives, it consistently gave the impression that while the wicked witch wanted to conquer Earth, she only really cared about one city in particular. That fact was even poked fun at in Power Rangers Turbo when Bulk and Skull became Angel Grove monster tour guides. That's also why it was so shocking when Power Rangers In Space expanded the definition of what it was to be an active villain in the Power Rangers universe. So it's nice to open this issue and see that far away countries aren't safe from monster attacks when Rita lashes out against a blustering Italian president.
When Jason saves the president and Zack in turn saves Jason, it's the Red Ranger who makes all of the headlines. The intriguing thing is that Zack echoes a sentiment that so many fans have thought about over the years. Do the other members of a ranger team ever get jealous of the Red Ranger? Do they ever wish that they could stand in the middle and make painfully unfunny threats in the form of puns best served in Laffy Taffy wrappers?
R.J. Cyler (Billy, Power Rangers [2017]) can be seen in an ad for The Real Cost, an anti-smoking campaign developed by the FDA.
In a piece titled "Dance", Cyler plays a high school student attending his prom and misses out on memorable moments by being dragged outside for smoke breaks through a personification of his addiction.
(Courtesy: thunderhayes from Rangerboard)
Lionsgate has released images of five posters promoting the upcoming Power Rangers movie, each one featuring an individual Ranger's face highlighted by the iconic lightning bolt from the logo.
Written by Zack Stentz and Ashley Miller, directed by Dean Israelite, and produced by Marty Bowen, Wyck Godfrey, Haim Saban, Brian Casentini and Allison Shearmur, this film is a development of Lionsgate and Saban Brands. It will be released in theaters on March 24, 2017.
Erin Cahill (Jen from Power Rangers Time Force) appeared in the July 16, 2016 episode of CBS's Angel From Hell.
She plays Danielle, the girl Brad's been dating before she ghosted him. Brad goes down to the gym where she works and confronts her during a spin class. The episode is #111, "The Flask".
Bryan Cranston has been making news lately as being cast as Zordon in the Power Rangers film premiering March 2017. He has already spoken of his motion caption work for the film, but in the following clip of Larry King NOW on Ora TV, he rattles off ranger colors appearing:
He mistakenly left out pink but mentioned green. Is the Green Ranger going to appear in the film or was this just a flub on Cranston's part? The jury is still out.
The fourth issue of Mighty Morphin' Power Rangers from writer Kyle Higgins and illustrator Hendry Prasetya is all about bringing the current storyline to a head. Since the beginning, the rangers have been questioning Tommy's status on their team as a reformed minion of Rita. For his part, Tommy hasn't exactly displayed himself to be the most trustworthy team member by hiding fevered visions of his former employer and getting into situations where they have to rescue him.
One of the most consistently strong aspects of this comic has been the proactive nature of the villains. Rita has no designs to let Tommy go quietly as she continues to sink her claws into his psyche and drive the rangers further and further away from their new compatriot. This leads to the battle that takes up the bulk of this issue and it's a fairly satisfying one. Scorpina has control of the Dragonzord and the confrontation that follows allows Prasetya's artwork to break free from the mundane stylings of a typical zord fight. The individual zords get time to shine and there's a controlled freneticism to the pacing that lets the rangers feel like the ragtag, early days team that Zordon somewhat recently recruited.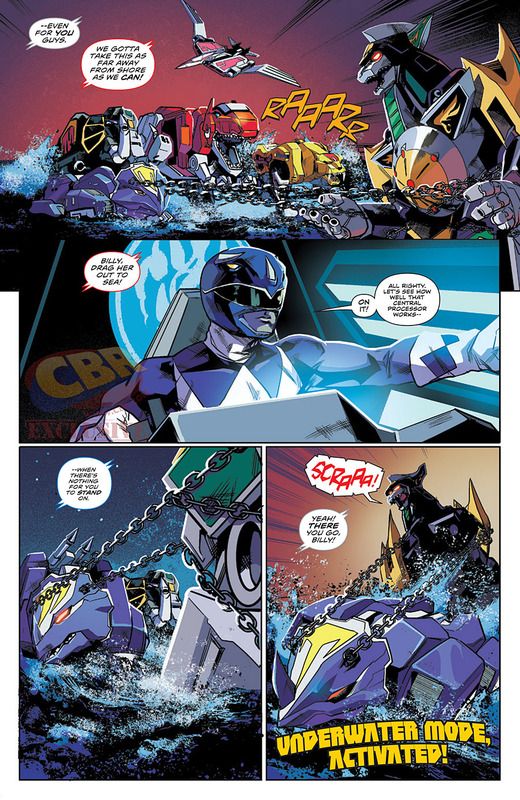 There are times where questionable liberties are taken by the writer. It's very much appreciated that this comic series is willing to dive into the rangers' personalities to a depth that the television show never approached. However, there are still certain universal truths that should be adhered to in lieu of crafting something that loses the nebulous feel of what makes the Power Rangers the Power Rangers. A monster should explode rather than leave a blood trail and the way the rangers handled Scorpina showed a severe lapse in judgment. While the feeling is that the confrontation between the team is being fueled by Rita's plan, it still paints Jason in a rather poor light. Here's hoping Jason's thought process is expounded upon in the future. There's nothing wrong with him being a flawed leader. In fact, it's encouraged.
Some of the rangers faded a bit into the background this issue as the confrontation between Tommy and Zack that has been in the works since the beginning of this series took center stage. As connected as she is to Tommy, Kimberly is by and large a bystander. Billy and Trini took very passive roles which does fit with the characters but even Zordon virtually disappeared by the end.
As usual, the book ended on an appropriately intriguing cliffhanger. Solicitations for issue five suggest that we will get the full story on what makes Zack tick next month. It will be interesting to see just how much they tackle the newly discovered threat by interweaving it into Zack's tale or if they'll take a more pure, flashback-filled approach. Either way, it's safe to say that the next issue is the most anticipated of the line up to this point.
Overall, this issue lacked some of the punch that was in previous installments. That doesn't mean the issue was bad. Far from it. The art continues to dazzle and the battle that took up the lion's share of the book was a real winner. Some of the characterization towards the end and the severe lack of Trini, Billy, and Kimberly did raise a red flag. Still, this comic has done a fantastic job of building on itself and has now reached the point where the pieces should come together.
Score: 4 out of 5


(Images Courtesy: Comic Book Resources)
Emmy-winning and Oscar-nominated actor Bryan Cranston has been named for the role of the mighty mentor Zordon in the Power Rangers film slated for 2017.  His numerous acting credits include the lead role of Walter White on Breaking Bad, the hilarious dad Hal on Malcolm in the Middle, as well as the big screen turn portraying a real-life scandalized screenwriter in Trumbo and the stage performance as President Lyndon B. Johnson in the play All The Way, later turned into an HBO movie of the same name in which he also starred.
But Power Rangers fans will always know him best as the voices of Snizard and Twin Man from the first season of Mighty Morphin Power Rangers.  His work on the show inspired the writing staff to give Billy his last name.
Here's what Bryan had to say about the news through his first tweet on the subject:
Excited to play #Zordon in the #PowerRangersMovie!


(Courtesy: @PowerRangersMovie via Instagram)
The long-awaited prop that fans have been clamoring for years to get their hot little hands on has finally started to hit store shelves. The latest Toys"R"Us-exclusive legacy item is a replica of the classic communicator for all of your teleporting and Zordon-chatting needs. It comes in two versions: a regular version for the main five rangers and a special Tommy Oliver edition if you prefer the green and white motif. At the moment, only the latter version has been seen in stores. Retailing at $79.99 the item is wearable on adult wrists and contains many vintage Power Rangers phrases.
To hear my full and frank review of the toy along with other reviews of previously released legacy items, click here to visit my channel Captain Subpar's Toy Reviews on YouTube. Check out reviews for both the Falconzord and Thunder Megazord along with my Super Sentai reviews and other musings.
Lionsgate and Saban Brands have teamed with game developer nWay and announced plans to create a mobile game featuring characters from the Power Rangers movie coming in 2017.
SANTA MONICA, Calif. and SAN FRANCISCO, June 15, 2016 /PRNewswire/ — The pop culture phenomenon Saban's Power Rangers will soon be reimagined as a real time multiplayer mobile action game as announced today in partnership by Lionsgate (NYSE: LGF), a premier next generation global content leader, Saban Brands, the creator of the 23 year Power Rangers legacy, and cutting edge game developer, nWay. The game is slated to launch next year. Also next year, Lionsgate and Saban Brands will release the eagerly-anticipated Saban's Power Rangers feature film in theaters worldwide on March 24, 2017.



"This alliance underscores our strategy of combining a world-class brand with a Triple-A game developer to create an exciting, high quality game with enormous upside," said Lionsgate President of Interactive Ventures & Games Peter Levin. "With nWay's ability to achieve console level play on mobile devices, the Power Rangers game will appeal to a broad spectrum of core gamers and Power Rangers fans alike."



"For decades, the Power Rangers brand has provided new and engaging opportunities for fans to experience the iconic franchise and we are thrilled to continue that legacy by joining forces with Lionsgate, our feature film partner, and nWay to create a state-of-the-art mobile game," said Janet Hsu, Chief Executive Officer of Saban Brands. "With these phenomenal partners, we will connect millions of Power Rangers and gaming fans globally with a mobile gaming experience unlike anything else."



"Lionsgate and Saban Brands are the ideal partners and Power Rangers is the perfect property on which to base a game with player-to-player competition, epic battles and intense action that raises the bar for the genre," said nWay Chief Executive Officer Taehoon Kim. "The Power Rangers global fan base provides a powerful foundation for the game's launch, and the high quality of gameplay makes this a natural for the e-sports trend. Power Rangers is an incredibly beloved and recognizable property, and its deep and detailed mythology will enable us to create a rich, multi-layered world for gamers everywhere."



nWay is an innovative San Francisco-based game company comprised of developers who have worked on some of the biggest intellectual properties in the world, including Star Wars, James Bond, Indiana Jones, The Godfather and Star Fox. nWay's first game, ChronoBlade, launched in Asia and is coming to the U.S. this summer.



Haim Saban launched Power Rangers with "Mighty Morphin Power Rangers" as a live action television series more than 20 years ago, and it quickly became the most-watched children's television program in the United States. It remains one of the top-rated and longest running kids live-action series in television history and has grown into one of the world's most popular and recognizable brands, with toys, apparel, costumes, video games, DVD's, comic books and more.



The announcement is the latest milestone in Lionsgate's creation of a diverse games business that includes: strategic investments in Telltale Games, Next Games, Mobcrush and Fifth Journey; the recent or planned launches of Orange is the New Black (IGT/DoubleDown Casino), Point Break (Payday), Mad Men (Zynga) and Kevin Hart mobile games; acquisition of rights to top gaming properties Borderlands and Candy Crush Saga to be adapted into films and television series; and virtual reality gaming initiatives built around the Company's John Wick and Now You See Me film properties as well as a VR game partnership with Google's recently-announced Daydream platform.

 
(Courtesy: NightMere10 from Rangerboard)
Brennan Mejia (Tyler from Power Rangers Dino Charge) appeared in the June 1 season premiere episode of NBC's American Ninja Warrior.
He's the very first competitor of the season, christening the brand new Los Angeles qualifying course on the lot at Universal Studios Hollywood. Unfortunately, he only makes it to the second obstacle, the new Tick-Tock, before falling off.  They even include clips of Power Rangers Dino Charge in his video package.  The episode is #801, "Los Angeles Qualifier".


(Courtesy: Taichi from Rangerboard)
No Pink Spandex – Episode 210: Besties 4Eva! (1:50:52, 76 MB)
Audio clip: Adobe Flash Player (version 9 or above) is required to play this audio clip. Download the latest version here. You also need to have JavaScript enabled in your browser.
Show Notes
Hosted by: Lisa J, Jer, Tristan, Shamus, and Jason
Topics: We talk about all the news including the MMPR #3 Comic, new Legacy toys, Dino Charge episode summaries, Power Rangers Ninja Steel casting sides, and much more!