No Pink Spandex – Episode 216: That's a Great PokeStop! (1:55:09, 79 MB)
Audio clip: Adobe Flash Player (version 9 or above) is required to play this audio clip. Download the latest version here. You also need to have JavaScript enabled in your browser.
Show Notes
Hosted by: Lisa J, Jer, Tristan, and Shamus
Topics: Originally recorded on September 25, 2016. We discuss Power Rangers movie news including first looks at the zords, and upcoming NYCC events and exclusives. Then we talk about Power Rangers Dino Super Charge Episode 13 "Recipe for Disaster" and MMPR #7. Finally, we delve into Max Landis' leaked script for the Power Rangers movie.
Two new episodes coming this week! Stay tuned tomorrow, October 13th for more Power Rangers movie discussion including our thoughts on the teaser trailer.
Hopefully the wonderful folks from either New York Comic Con, Saban Brands, or Lionsgate will upload a high quality version of today's Power Rangers panel with the cast and director Dean Israelite, but in the meantime you can check out a decent version below:
Valiant Comics and Bat in the Sun just finished their panel at New York Comic Con and showed the following teaser trailer for the upcoming web series Ninjak Vs The Valiant Universe featuring Jason David Frank:
The cast includes Michael Rowe (Ninjak), Jason David Frank (Bloodshot) John Morrison (The Eternal Warrior), Chantelle Barry (Roku), Kevin Porter (Armstrong), Ciera Foster (Livewire), and Derek Theler (X-O Manowar). There will be 6 episodes in total. No word yet on type of online distribution.
Update – 9:31 AM ET: Video is back up! Watch below! The movie premieres in theaters on March 24, 2017.
Yoshi Sudarso (Koda from Power Rangers Dino Charge) will be featured in Episode 4 of the Minute Match Up web series, entitled Power Rangers Megazord vs Voltron.
Yoshi will be seen playing the role of Keith from Voltron, not seen while filling the suit of the Red Ranger from MMPR, and he served as the project's on-set action director.  The episode premieres October 12, 2016.


(Courtesy: NinjaJack on Rangerboard)
Gaming news website Gematsu brings us the press release and trailer for Saban's Mighty Morphin Power Rangers: Mega Battle.
Saban's Mighty Morphin Power Rangers: Mega Battle provides a creative and modern re-imaging of the classic multiplayer beat-em-up genre. Level up your rangers, team up with friends, summon the Megazord, and fight your way through levels stylized after classic Mighty Morphin Power Rangers episodes!



Classic Power Ranger DNA Intact: Morph, use weapons & martial arts, and summon the larger-than-life Megazord!



Intuitive and Deep Battle System: Includes light, heavy, weapon and projectile attacks. Players will be able to integrate weapon strikes into different combo strings!



Leveling and Customization: Players can level-up and unlock new moves, attacks and weapons.



Unlockable Characters: Unlock Tommy Oliver in his Green & White Ranger costumes as well as the human characters Rocky, Aisha, Adam & Kat from MMPR season 2!



Nostalgic: Each level is based on a classic episode from the TV series. The levels are filled with familiar dialogue, background details, cut scenes, and enemies pulled straight from the first two seasons of the show!
Developed by Bamtang, Saban's Mighty Morphin Power Rangers: Mega Battle will be available for Sony PlayStation 4 and Microsoft Xbox One in January of 2017.
You can watch the gameplay below!
Thanks to IGN, we have high-resolution posters of all five Power Rangers from the upcoming film adaptation. Click on the links below to download.

Red Ranger
Pink Ranger
Blue Ranger
Yellow Ranger
Black Ranger
With a screenplay by John Gatins and story by Matt Sazama & Burk Sharpless and Michele Mulroney & Kieran Mulroney, directed by Dean Israelite, and produced by Marty Bowen, Wyck Godfrey, Haim Saban, Brian Casentini and Allison Shearmur, this film is a development of Lionsgate and Saban Brands. It will be released in theaters on March 24, 2017.


(Courtesy: Morgan Lamia from Rangerboard)
The first movie toy, exclusively at New York Comic Con, will be a limited-edition Legacy Collection Movie Red Ranger with his sword and power coin! Only 1,000 have been made and each day, there will be limited quantities available at Bandai's booth, #1628.
Here's a first look at the Red Ranger's sword for the Power Rangers movie coming out on March 24, 2017:
After the full cast reveal of next year's Power Rangers series, Power Rangers Ninja Steel, at the 2016 Power Morphicon convention, the actor portraying the Yellow Ranger has been changed.
Chantz Simpson has vacated the role of Calvin, Ninja Steel Yellow Ranger.  In his place will be Nico Greetham.  In a statement from Saban Brands:
Due to unforeseen circumstances, the role of the Yellow Ranger was re-cast and we're excited to announce the awesomely talented Nico Greetham will be playing the role of the Yellow Ranger. It's going to be an amazing 24th season!
No specific reason has yet been given for the alteration.
Power Rangers Ninja Steel premieres January 2017 on Nickelodeon.
Actor and comedian Bill Hader has been named as the voice of Zordon's faithful robot assistant Alpha 5 in the Power Rangers film slated for 2017.
Most famous for his years on NBC's Saturday Night Live, Hader has also racked up many movie roles, from Officer Slater in Superbad all the way to Aaron in the popular Amy Schumer comedy Trainwreck.  His voice acting credits include Cloudy with a Chance of Meatballs, Inside Out and the upcoming Smurfs: The Lost Village.



(Courtesy: @PowerRangersMovie via Instagram)
Comicbook.com reports the Valiant Comics reveal that Jason David Frank's (Tommy from Mighty Morphin Power Rangers) role in the upcoming Ninjak web series is that of fellow Valiant heavy-hitter character Bloodshot.  To announce this news in the biggest way possible, Valiant has released a special variant edition of Bloodshot #14 with Frank as the title character on the cover.
Directed by Bat in the Sun and starring Michael Rowe in the title role of Ninjak, the 6-8 episode miniseries will feature the warrior doing battle with many of the Valiant stable's other marquee players, including Bloodshot, X-O Manowar and Timewalker.
Fans can pick up the Top-Secret Project Jason David Frank Variant of Bloodshot #14 at the New York Comic Con during Frank's signing session on Friday, October 7 at Valiant booth #1635.


(Courtesy: Lord Stop The Pain from Rangerboard)
After having his arraignment postponed multiple times, Rick Medina a.k.a. Ricardo Medina, Jr. (Cole from Power Rangers Wild Force) on September 30, 2016 entered a plea of not guilty in the murder of his roommate Joshua Sutter, for which he was arrested and charged in January.
In a report by KABC-7 Los Angeles, Medina's attorney Allen Bell says he still has not gotten any response from the deputy district attorney's office about what he believes to be false information provided as to dog bites on the victim's body being regarded as inflicted stab wounds.
"I can only conclude that the conduct that we complained of is being ratified by the district attorney, and ignored by the district attorney, and, or I hate to say, maybe covered up by the district attorney," Bell said.
According to an article outlining the case on People.com, Medina's preliminary hearing is scheduled for October 20, 2016.


(Courtesy in part: ranger_scout from Rangerboard)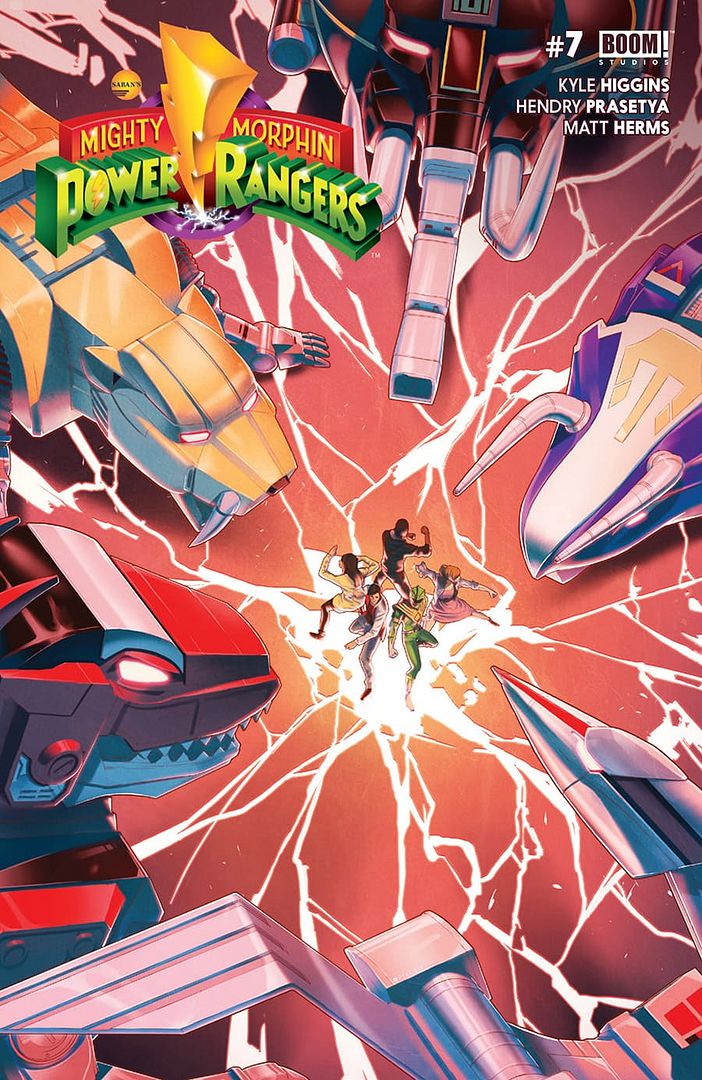 Editor's Note: If you haven't read the comic and like the element of surprise, STOP. Do not read any further! Spoilers are ahead!
The art of storytelling lives and dies through pacing. Whether it is movies, television, or comic books, the way in which information is presented to the viewer is just as important as the media itself. For example, as much enjoyment as the current television series – Power Ranger Dino Charge – has provided, many including this reviewer have criticized its second season for questionable pacing. Too many of the key plot points have been presented late into the season via bloated information dumps. This can lead to fun episodes early one and overwhelming lethargy late in the game.
Alternatively, BOOM! Studios comic series Mighty Morphin' Power Rangers has masterfully doled out its fairly complex first act in digestible chunks. Writer Kyle Higgins continues to weave a meticulously-planned web that provides variety while slowly ratcheting up the consequences for both our heroes and the world that they protect. Continuing this month with issue #7, Rita Repulsa and Black Dragon take their victory lap and expand their empire as the rangers try to regain their footing.
No Pink Spandex – Episode 215: Diversity in Spandex (1:32:43, 64 MB)
Audio clip: Adobe Flash Player (version 9 or above) is required to play this audio clip. Download the latest version here. You also need to have JavaScript enabled in your browser.
Show Notes
Hosted by: Lisa J, Jer, Tristan, and Shamus
Topics: We discuss the recent Power Rangers Ninja Steel cast change and delve into diversity on Power Rangers over the years.
Patricia Ja Lee (Cassie from Power Rangers in Space) appears in a new ad for New York Life insurance.
She's an expectant mother in the process of giving birth while her husband wonders about the finances he's going to need to support his family in the future.
Here are the hi-res pictures of the new posters for Power Rangers (2017) film. Click on the thumbnails below!

Bandai America is coming to New York Comic Con (October 6th-9th) with two exclusive offerings including the first-ever toy for the upcoming Power Rangers movie. Details on the figure aren't available at this time but we do know that it will be limited to 1,000 pieces at a price point of $40.
Also available will be a limited edition Tokyo Vinyl figure of the Dino Megazord from Mighty Morphin' Power Rangers. This figure was designed by Japanese vinyl artist TOUMA and will only have 500 pieces in circulation. Priced at $60, both the Dino Megazord and movie figure will be available for purchase at the Bandai America booth #1628.
(Courtesy: Bandai America)
Lionsgate brings many announcements today, starting with the Power Rangers (2017) movie cast appearing at this year's New York Comic Con.
Panel will be held on Saturday, October 8th at 2:00pm at The Theater at Madison Square Garden. Lionsgate has said that we will be getting a "first look" at the movie. Since we've had many looks via pictures, one would assume that we'll be getting a teaser trailer at the very least. Hope springs eternal!
No Pink Spandex – Episode 214: Check For Blaccuracy (1:20:18, 55 MB)
Audio clip: Adobe Flash Player (version 9 or above) is required to play this audio clip. Download the latest version here. You also need to have JavaScript enabled in your browser.
Show Notes
Hosted by: Lisa J, Jer, and Shamus
Topics: We review Power Rangers Dino Super Charge Episode 11 "Love at First Fight" and Episode 12 "Catching Some Rays". We also review Mighty Morphin' Power Rangers #6 from BOOM! Comics. All that and more coming up!
Claire Blackwelder (Kendall from Power Rangers Dino Charge) appears in the Lifetime original movie Stalked By My Doctor: The Return.
After Dr. Albert Beck miraculously saves a teenage girl from drowning during Spring break in Mexico, he shows up at her school back home to check on her – and pursue his obsession.
Also starring Eric Roberts and Hilary Greer, it premiered this past Labor Day and will repeat on Sunday, September 18 @ 9PM ET on Lifetime.


(Courtesy: GoldAnyRanger from Rangerboard)