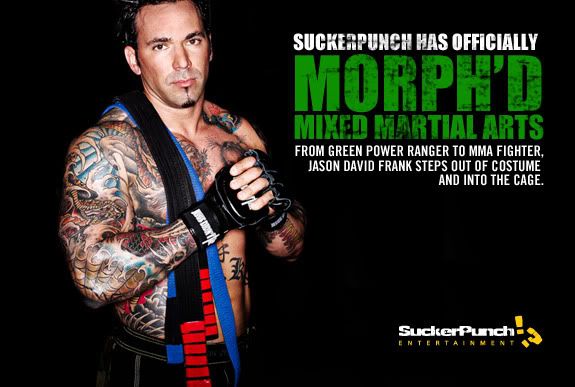 Jason David Frank has just been signed by SuckerPunch Entertainment, so he will be in an Mixed Martial Arts cage fight pretty soon…after he heals from his injury. At Anime Festival Orlando, he mentioned being out of commission for the next 6 months because of a torn left bicep.
But you can read an interview with him over at the site. Here's an excerpt:
JDF: There are many great martial arts out there. But when the time comes, the question is whether or not you can take care of yourself and your family on the streets. That's the real test. Jute Keen Do is the way of the intercepting fists, focused more on defense. I wanted to cut out the stuff that doesn't work. I was doing MMA, in essence, before MMA became big. MMA is the philosophy I had in 1994 when I invented [Toso] Kune Do. We were doing sprawl and brawl at that time, and I'm excited to see how my fighting art will do in competitive MMA.
(Courtesy: SuckerPunch Entertainment)
Browse Timeline
Comments ( 1 Comment )