The venerable CBR has conducted their own interview with Kyle Higgins, head writer of the new Mighty Morphin Power Rangers comic book from Boom! Studios.  He gives out juicy details, including a fresh approach to Tommy's story and a few things to satisfy the bad guy fan in all of us.
I'm writing the series with a more modern sensibility. I've been kind of equating it to what Mark Waid and Fiona Staples have been doing — brilliantly — with "Archie."  They're the characters we know and love, but in a more contemporary setting and with the benefit of higher production value (See: the amazing Hendry Prasetya) and a format that really favors a big, serialized story.
You can read more about Higgins' approach on Comic Book Resources. Issue #0 comes to shelves on January 6, 2016.


(Courtesy: SonicBlueRanger from Rangerboard)
Nakia Burrise has created a new online series called Class Dismissed which follows "three grade school friends… Liz, Anne, and BJ. Liz, the outspoken and sassy tv extra, turned teacher, turned extra again, constantly finds herself in limbo between her fantasy world of background acting, online dating disasters, and her new job as a class aid."
In the latest episode, Catherine Sutherland makes an appearance, so you can check it out below! (And check out the rest of the series as well!)
(Courtesy: Class Dismissed)
In this installment of OMGURLFTW!, we look at our very own co-host Jer aka Captain Subpar and his YouTube channel!
If you have listened to our podcasts in the past, Jer has always had insightful views and reviews on toys, and I don't know anyone who owns more Super Sentai toys than this guy! His latest episode reviews Boukenger and Final Combiners, so check it out and subscribe!
Jack Guzman (Danny from Power Rangers Wild Force) appeared in the November 10 episode of ABC's Marvel's Agents of S.H.I.E.L.D.
He plays S.H.I.E.L.D. Agent #1, showing up alongside May and another agent to escort Joey out so she can talk to Andrew.  The episode is #307, "Chaos Theory".
The website PREVIEWSworld has conducted an interview with Kyle Higgins, head writer of the new Mighty Morphin Power Rangers comic book.  In it, he describes how he got the gig, when the stories will be set, and who his favorite Ranger is.
"I was a big Power Rangers fan as a kid, and I really love the types of books BOOM! has built their name on in recent years. The whole situation felt like it could be a really nice fit. Luckily, [editors] Dafna [Pleban] and Alex [Galer] and the powers-that-be at Saban agreed, and greenlit my pitch."
Issue #1 is set to be released in January 2016.
(Courtesy: Morgan Lamia from Rangerboard)
In case you've been wondering what characters we'll see in the upcoming Power Rangers movie, a tweet has been released, revealing them to be none other than the original Mighty Morphin Power Rangers!
IT'S MORPHIN TIME, Jason, Kimberly, Zack, Billy & Trini! #PowerRangersMovie, coming 2017!
(Courtesy: @PowerRangers via Twitter)
Acclaimed tokusatsu mecha artist Tsuyoshi Nonaka has given fans a first look at the Legacy Thunder Megazord. Best known for his work on the Soul of Chogokin line of collector's toys based on mecha from 70's and 80's anime, Nonaka has been an integral part of designing the Power Rangers Legacy series.
While no exact date has been announced, Bandai representatives told fans earlier this year at San Diego Comic Con to expect the Legacy Thunder Megazord to hit Toys"R"Us shelves in the spring of 2016 at a suggested retail price of $199.99.
No Pink Spandex – Episode 192: Interview with Alyson Kiperman Sullivan (1:11:35, 49 MB)
Audio clip: Adobe Flash Player (version 9 or above) is required to play this audio clip. Download the latest version here. You also need to have JavaScript enabled in your browser.
Show Notes
Hosted by: Lisa J and Spy
Topics: We talk with Alyson Kiperman Sullivan (Taylor from Power Rangers Wild Force) about her first acting roles, auditioning for Wild Force, her castmates, her upcoming projects (including one that's super secret), and much more!
Links
Alyson Kiperman Sullivan on Facebook: https://www.facebook.com/profile.php?id=100008295870450
Sullivan Farms GoFundMe Campaign: https://www.gofundme.com/sullivancommercial
It's not too late to donate to get your Power Ranger perk!
Singer Becky G has been named for the role of the Yellow Ranger in the Power Rangers film slated for 2017. Her acting credits include a recent role on Fox's Empire.
(Courtesy: @PowerRangersMovie via Instagram)
Erin Cahill (Jen from Power Rangers Time Force) appeared in the October 22 episode of Fox's Bones.
She plays Ashley, wife of one of the fantasy football league murder suspects and who was having an affair with the victim.  The episode is #1104, "The Carpals in the Coy-Wolves".
(Courtesy: kalenabear from Rangerboard)
RJ Cyler has been named for the role of the Blue Ranger for the Power Rangers film slated for 2017. His work includes Me and Earl and the Dying Girl and the upcoming War Machine starring Brad Pitt.
(Courtesy: @PowerRangersMovie via Instagram)
Ludi Lin has been named for the role of the Black Ranger in the Power Rangers film slated for 2017. His work includes a small role in the Marco Polo series on Netflix and the Chinese film Monster Hunt.
(Courtesy: @PowerRangersMovie via Instagram)
Dacre Montgomery has been named for the role the Red Ranger in the Power Rangers film slated for 2017.  His work includes Betrand the Terrible and Family Tree.
(Courtesy: @PowerRangersMovie via Instagram)
Cameron Jebo (Orion from Power Rangers Super Megaforce) appears in a new ad for Gorilla Glue.
He's running from a masked serial killer when the blade of his ax comes off and he gets the help of a gorilla to stick it back on.
(Courtesy: ShinySephiroth from Rangerboard)
Eka Darville (Scott from Power Rangers RPM) conducted a brief interview with IGN at New York Comic Con discussing his new role on Marvel's Jessica Jones.
Toward the end, he's asked about Power Rangers RPM and the massive success of its cast members.
Thanks to Dekablue on Twitter, we can now take a look at the Legacy MMPR Communicator. Comes with interchangeable bands.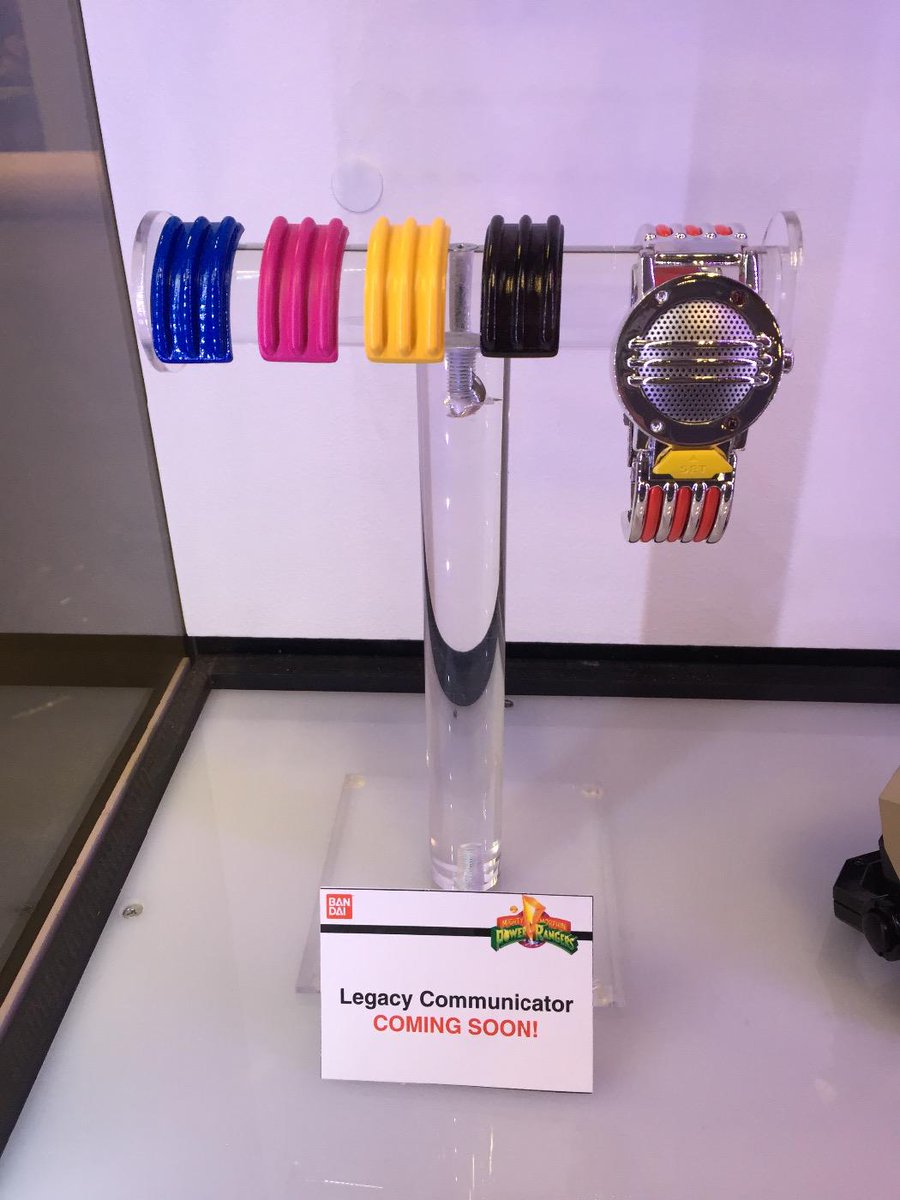 Naomi Scott has been named for the role of Kimberly cast as the Pink Ranger in the Power Rangers film slated for 2017. Her recent work includes The Martian and Terra Nova.


Updated 10/8/15: Saban Brands nor Lionsgate have not yet mentioned the character's name of the Pink Ranger.
(Courtesy: @PowerRangersMovie via Instagram)
In an interview with License! Global, president of Saban Brands Elie Dekel has announced his stepping down as head of the company effective immediately.  He will, however, remain with Saban Brands as a senior advisor while he pursues other interests.  Launched in 2010, Saban Brands celebrates its fifth year of operation by already having  more than quintupled its first-year retail sales.
"Five years ago we accomplished what we intended to do and then some," says Dekel. "That spirit and productivity will continue through the company. It was the right time for me to leave, and the company is in a very strong position."
Chosen as the new leader of Saban Brands is their first-ever Chief Executive Officer Janet Hsu, the president and Chief Operating Officer of Sanrio, the company behind Hello Kitty.  Her new role begins officially on August 17.
"Janet is a visionary leader with a strong track record for driving global business expansion and leading innovative strategies," says Adam Chesnoff, president and chief operating officer, Saban Capital Group, to whom Hsu will report. "Janet has been responsible for some of the world's largest and most successful brands. Her extensive and diverse background across licensing, merchandising and retail has led to many major accomplishments. We look forward to working closely with her at Saban Brands to continue to grow the company and its expanding portfolio of brands."
According to the website yvrshoots, the Directors Guild of Canada has announced the shooting location of the upcoming Power Rangers feature film.
Under the production code "SHIRT", filming is currently scheduled to take place in Vancouver, British Columbia, Canada, from January 18 through April 12 of next year.
Written by Zack Stentz and Ashley Miller, directed by Dean Israelite, and produced by Marty Bowen, Wyck Godfrey, Haim Saban, Brian Casentini and Allison Shearmur, this film is a development of Lionsgate and Saban Brands.  It will be released in theaters on January 13, 2017.
Ciara Hanna (Gia from Power Rangers Megaforce) will play Heather Locklear in Lifetime's upcoming The Unauthorized Melrose Place Story. CBS's The Insider took a behind-the-scenes at the feature.
The Unauthorized Melrose Place Story will air October 10 on Lifetime.
(Courtesy: ShyRanger from Rangerboard)